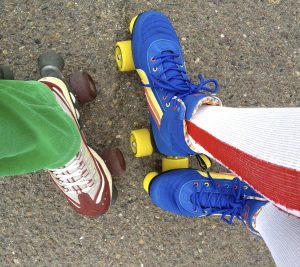 So you've made the jump from rentals to owning your own skates, huh? Congratulations and prepare to take your skating to the next level. Once you've broken in your new skates in, you'll start to feel your turns become more reactive, your control more crisp and your comfort level way beyond anything you ever felt in a rental.
At Skate Moore in Moore, Oklahoma, we want to make sure you get the most out of your skates by giving you some tips to maintain and care for them.
Basic Roller Skate Maintenance
Whether you're on a roller derby squad, getting into speed skating or like to dance, there are some general maintenance that all skates need to keep them rolling smooth.
Make sure you keep your boots dry. Wet leather will wear out quickly get deformed and ruin your skates in a hurry.
Check your trucks often. Make sure your trucks are tight to your boots and check them often. Loose trucks can mess up your skating and even be dangerous.
Keep your wheel bearings clean.  Nothing makes your skates feel smoother than a pair of good, clean bearings. Check that they are spinning right and that they are clean. Change them out when needed and keep them dry.
These are the basics of roller skate maintenance and should keep you rolling if you pay attention to these tips. Keeping your skates well maintained will extend the life of your skates and make your overall skating experience a better one. For more tips, drop by Skate Moore and talk to our crew in the Pro Shop today!