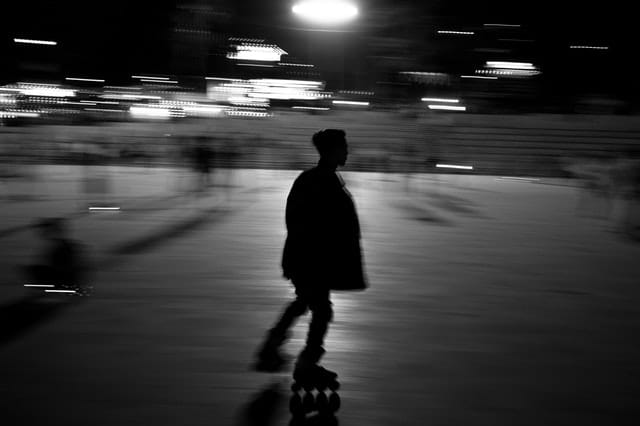 Most people are familiar with indoor skating at a skating rink, but might not be as familiar with other types of skating. If you're wondering what the differences are between indoor, outdoor, and ramp skating, you've come to the right place. Read on to learn how these types of roller skating differ, but remember that they're all great ways to have fun while exercising!
Indoor Skating
Most indoor skating is done at a skating rink (or roller rink), a hard, smooth surface designed for skating. Because it is indoors in a controlled environment where it can be maintained and cleaned, the skating rink floor offers a much smoother ride than if you were to go outside. Indoor skating uses harder wheels, allowing you to roll faster.
Outdoor Skating
Outdoor roller skating is a great way to enjoy nature while getting some exercise, but don't just take your indoor skates outside! You'll need to change to different wheels for outdoor skating. These wheels are softer, providing grip and shock absorption on the less even surfaces you'll find outside. Outdoor skate wheels will allow you to roll over small cracks in the sidewalk or leaves on a paved path without too much trouble. However, there are a lot more hazards to roller skating outside, so be sure to wear protective skating gear including wrist, elbow, and knee guards, as well as a helmet. All it takes is one stick or patch of gravel to cause a fall, so wear your pads and be as safe as possible. 
Ramp Skating
While ramp skating can be done inside or out, most skate parks are outdoors. Ramp skating is kind of like the daredevil version of roller skating, using the ramps, bowls, pipes, and other features of the skate park to push your skating skills to the limit. If you're interested in learning how to ramp skate, check out this great ramp skating for beginners lesson on YouTube. And of course, don't try any of these moves without the proper safety gear! It's best to start small and work your way up.
Whether you just want to have fun with friends or train for a sport like roller derby or ramp skating, practice is a must. Check out our schedule for open skating sessions in Moore, OK!