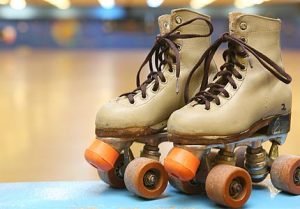 So, you've picked up your first pair of roller skates and are trying your skill around the rink. Or, maybe you've been skating for a while but want to improve your roller skating skills. Either way, the tips below are for both beginners and intermediate skaters. These tips will help you out-race your friends around the Skate Moore rink in no time!
Wear Protective Gear
Many people opt out of wearing protective roller skating gear because they don't want to look silly. However, this gear can save you a trip to the emergency room and broken bones! It doesn't matter if you're new to roller skating or you've been roller skating for a while, falls can happen. To stay safe, wear a helmet, thick kneepads, elbow pads, and wrist guards.
Practice Indoors
Are you trying to roller skate for the first time? Or have you been roller skating for a while and there is a new move you want to try? Practice your new favorite activity indoors, specifically on carpet. The carpet provides traction for your wheels so it's easier to skate on. If you fall while trying your new trick, the landing won't hurt as much (especially if you are wearing your roller skating gear.)
Take Roller Skating Classes
Learn how to roller skate from a trained professional. Roller skating classes are great to learn the basics and receive tips on technique and style. When you're at Skate Moore and have questions about roller skating, ask our staff. They can teach basic skating skills to anyone who needs help!
Contact us today if you have any questions!