Now that the holidays are behind us and the new year is in full swing, let's get back to basics! Here at Skate Moore Skate Center, we get a lot of questions about skating, but it boils down to three basics. So here is our Roller Skating 101: How-Tos!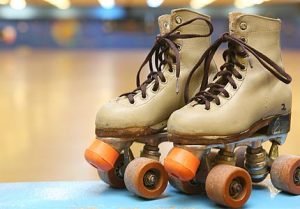 How To Skate Without Falling
First of all, bend your knees. Now bent them further! You want to bend so far that you can't see your toes past your knees. The next trick here may seem counter-intuitive but trust us: lean slightly forward rather than backward. Give it a try and see how much more stable you feel!
How To Stop
If you're wearing appropriate knee pads, you can just drop gently to one knee to stop yourself. Of course, you can use the heel brakes on your inline skates, or toe stops on your quads. That's what they're there for! Finally, try a

T-stop

: drag one foot behind you perpendicular to the other foot.
How To Prevent Blisters
How To Get Better
Practice! That's it. Just keep working at it. You can read "how to skate" articles all day long, but the sooner you put your knowledge into practice, the sooner you'll master it! Come out to Skate Moore

whenever we're open

and see what you can do on the skate floor.
Now that you've got the basics, don't forget that practice makes perfect! We can't wait to see you at Skate Moore Skate Center.