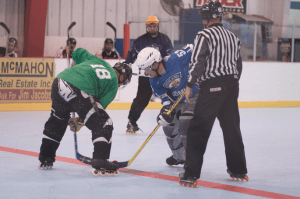 When we think of roller skating, we think of, well, roller skating. There isn't many things we can think of that top gliding across a smooth wooden rink on a pair of skate, but there is more to do on eight wheels than you may think! In fact, there are many different games that can be played while roller skating. Who knew that skating could get any better?? Skate Moore, in Moore, Oklahoma, has listed some games to play to make your roller skating experience even better!
Roller Skating Games
Roller Tag – This is played exactly like regular tag, but everything is made better with a pair of roller skates. This is a really fun way to turn your skating experience up a few notches!
Musical Chairs on Skates – We all remember playing musical chairs as kids, but not many of us tried it on skates! Much like traditional musical chairs, but in the skating version there are marked areas on the ground instead of chairs that show where to claim a spot.
Roller Hockey – Take away the ice and ice skates, and replace it with pavement or a wood floor and roller skates! Roller hockey is a great way for hockey lovers to play at any time they want, without having to make their way to an ice rink.
Limbo – How low can you go? If you have mastered the art of limbo, crank up the difficulty a bit and throw on some skates.