Spring is here, finally. It's been a long winter, and everyone's looking for fun new reasons to get out of the house now that the warmer weather might be here to stay (we hope it's here to stay, anyway). Have you thought about taking up roller skating? It's the perfect hobby to liven up the spring and summer!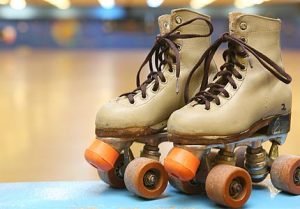 You probably already knew this, but skating has a ton of physical benefits. Because it involves most of your major muscle groups, you'll notice improved strength and tone. Exercising your core will help improve your balance as well. Feeling a bit wobbly on your skates? Click here for tips on being more stable! The aerobic exercise will strengthen your heart and lungs, and because it's low-impact it's easier on your joints than running or jogging.
Skating is also good for your brain! Getting out to the skating rink at Skate Moore Skate Center means you'll listen to great music while getting plenty of exercise, which helps lead to an improved mood. Not only that, but did you know that learning a new skill can help keep your brain young and even help prevent dementia? And don't forget the biggest benefit of skating: meeting new people. Spring is a time of renewal and growth, and there's nothing like new friends to make that happen.
No matter what your reasons are for taking up skating this spring, Skate Moore Skate Center is the place to do it. Check out our schedule to see what works best for you. We can't wait to see you!